Some Much to Discover & Explore on a Tuscany Vacation
Tuscany is the center of Italy—its culture, its food and wine, and its major attractions. While you're our guests, we'll help you see and do the things that are high on your priority list. Tuscan Women Cook is the original total immersion cooking school in Montefollonico since 2000.
Tuscany is a region of tremendous geographical and cultural diversity. It is composed of nine provinces, most of them along ancient boundaries. Each Tuscan city maintains its historical uniqueness and charm.
Within a short drive of your magnificent accommodations at I Castagni in Montefollonico, you'll be able to visit many extraordinary towns—large and small—that are rich in history and culture. Here's a sample.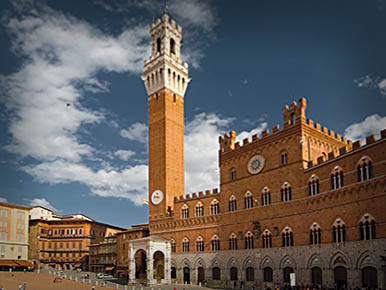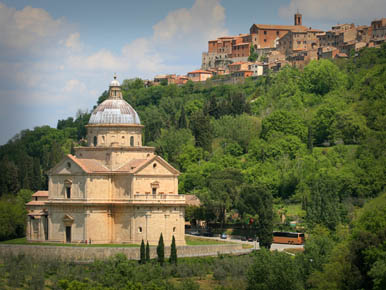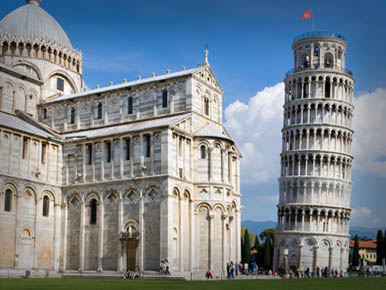 Pienza
An architectural jewel set in the magnificent open countryside. By papal decree in 1462, Pope Pius II decided to rebuild the village of his birth and commissioned Bernardo Rossellino to the task. Also famous for the world's best Pecorino cheeses.
Montepulciano
Famed for its Vino Nobile di Montepulciano wine. The Etruscan town's central square, the Piazza Grande, is as beautiful as any in Italy. The spectacular San Biagio church sits just below the town at the far end of a long avenue of tall cypress trees.
Montalcino
Fragrant hedges of colorful roses line the endless rows of vineyards parading up and down the low slung hills. The area produces one of the world's best wines—Brunello di Montalcino.
Cortona
Full of rich artistic heritage, this is the town that inspired Frances Mayes' book, Under the Tuscan Sun. Take a leisurely stroll on the cobble-stoned streets or enjoy an espresso at a sidewalk caffè.
The Chianti
Home to the Chianti Classico and Chianti Rufina wine growing regions.
Siena
With its colorful history and unique horse race, the Palio. Outside of Florence, Siena possesses the richest artistic heritage in Tuscany, and a wonderful Wednesday morning market brimming with bargains.
Pisa
Home of the Duomo, the Baptistry, and the famous leaning Campanile used by Galileo to disprove Aristotle's theory of falling objects.
San Gimignano
The best-preserved medieval town in Tuscany with 13 of its original 70 towers, built for protection and to signify social standing.
Villa La Foce
A famed interpretation of Renaissance gardens, this nearby villa is tantalizing because of Iris and Antonio Origo's landscaping begun in the 1920s. La Foce is also the home of an international music festival, Incontri in Terra di Siena.
Bagno Vignoni
A spa town built by the Romans to enjoy the thermal waters of Monte Amiata.
Florence
The birthplace of Renaissance art and architecture. Florence is also renowned for shops specializing in leather goods and designer clothes.
Arezzo
Founded by the Etruscans, famous for Piero della Francesca's newly restored frescoes of Leggenda della Vera Croce in the 13th century church of San Francesco. Arezzo is also home to Tuscany's finest antique market held on the first Sunday of each month.