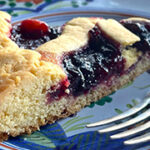 Print Recipe
Wild Plum Tart
Crostata is a simple, yet elegant Tuscan jam tart served for dessert or breakfast.
Fillings change with the seasons. In a wine growing town, it might be grape jam. Some make it using blackberry jam made from wild berries harvested along the roadside. But any variety works well, from orange marmalade to blueberry preserves. The buttery dough for crostata gains richness from melted butter and egg yolks, which also give it a golden color. Light and crisp, the crust is like eating a cookie cloud. 
The nonnas in Montefollonico like to make crostata with apricot or wild plum jam. Tuscan Women Cook guests enjoy nonna Donatella's creation, along with limoncello and grappa, at the conclusion of their lunch class at Ristorante 13 Gobbi.
Ingredients
¾

cup

granulated sugar

3

egg yoks

1

whole

egg

8

ounces

butter, melted and cooled

grated zest of orange or lemon

2¾

cups

all-purpose flour

2½

tsp

baking powder

1-¼ to 1-½

cups

wild plum jam or other fruit jam such as apricot or blueberry
Instructions
Preheat the oven to 350˚F. Butter then line a 12-inch round cake pan with parchment paper. Make a parchment paper sling to help remove the crostata from the pan after baking. Cut a strip of parchment paper 2-inches wide and at least 16 inches long.   Lay the strip in the pan. Allow the extra paper to hang over the sides of the pan. 

Whisk together the sugar, egg yolks and whole egg in a large mixing bowl. Slowly stir in the melted butter. Add the zest, flour and baking powder.  Stir until it comes together into a soft dough.

Set aside approximately one cup of the dough. Spoon the remaining thick dough into the prepared pan. Using your fingers, press the dough into an even layer that covers the bottom of the pan and slightly up the sides.

Warm the jam so that it will spread easier. Then, pour the warm jam over the dough in the pan. Use a spatula to spread it out into an even layer.

Place remaining dough on a floured work surface. Knead it then roll it about ¼-inch thick. Cut the dough into thin strips.  Position the strips in a lattice pattern on top of the jam.

Bake for approximately 30 minutes until the edges of the crust are golden and the lattice is firm.

Cool completely in the pan on a wire rack.  When cool use the parchment paper slip to carefully lift the crostata out of the pan.