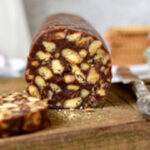 Print Recipe
Chocolate Salami
This festive dessert surprises many. It's called salami, it looks like salami but in fact it is pure delicious chocolate studded with crunchy butter cookies. 
While it is often made with cocoa powder and sugar moistened with eggs, many pasticcere use quality bittersweet chocolate as well as cocoa powder when making salame di cioccolato.  The melted chocolate gives this treat a richness that rivals the best truffle. That's why our recipe uses bittersweet chocolate and cocoa powder. For the butter cookies, choose a brand with a pleasant butter flavor that crumbles easily such as LU Petit Beurre, Lorna Dune or Bahlsen Leibniz Butter Cookies.
A splash of fortified wine such as Vin Santo (from Cantine Vittorio Innocenti in Montefollonico, of course) adds flavor and helps the chocolate and cookie mixture hold together. Grappa, brandy or a favorite liqueur such as Grand Marnier or Amaretto can also be used. Because of their distinctive tastes and higher alcohol content, you may prefer to use these liqueurs sparingly, perhaps 1 or 2 tablespoons per batch. Taste a little of the mixture and use your judgement.  For those who prefer to skip the alcohol, a combination of vanilla extract and orange juice can be added instead.
Ingredients
2½-3

cups (about 180 grams)

butter cookies

6

ounces (180 grams)

bittersweet chocolate

4

ounces (120 grams)

unsalted butter

2

tbsp

cocoa powder

4

tbsp

granulated sugar

2

egg yolks

⅓

cup

chopped pistachios

2-3

tbsp

Vin Santo, grappa or brandy, or as needed

powdered sugar
Instructions
Place the cookies in a zip lock bag. Crush them using a rolling pin and your hands into ¼-inch to ½- inch pieces. Set aside.

Melt the chocolate and butter in a medium size bowl set over simmering water. Stir occasionally with a rubber spatula until smooth.

Remove the chocolate from the heat. Whisk in the cocoa powder and sugar. Then whisk in the egg yolks.

Fold in the crumbled cookies, pistachios and as much vin santo as needed to keep the mixture together without being crumbly. 

Stretch out a piece of plastic wrap about 24 inches long on a worktable. Transfer the chocolate mixture to the plastic. Form it into a log about 2-inches in diameter. Use your hands to pack it tightly. Roll the log up in the plastic wrap. Twist the ends tightly to squeeze it into a uniform shape. Refrigerate the log for 4 hours or overnight.

To serve, unwrap the log and rub its surface with powdered sugar. Let the chocolate salami sit at room temperature for 30 minutes before cutting. Using a serrated knife, cut into ¼ to ½-inch thick slices.