Coleen Kirnan
Imagine having a best friend in Tuscany who knows all the best places to cook, dine, and shop. She is on a first name basis with the best gelato makers and has exclusive access to the most spectacular vineyards where they'll set up personal wine tastings just for you. This friend is also a master travel planner, who takes every travel detail off your plate and creates an insider's Italian itinerary filled with friendly, knowledgeable tour guides, translators, drivers, and private cooking classes only a local resident could access.
When you book a week with Tuscan Women Cook, Coleen, along with her team, becomes that extraordinary new friend, with contagious joy that will deeply enhance your Italian experience.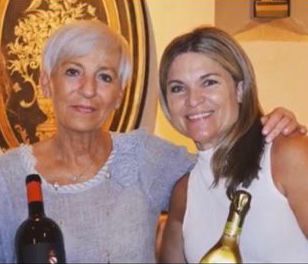 Chances are you have come to a place in your life where it is finally time to take care of YOU. Coleen intimately understands this life chapter and relishes the opportunity to create your new, personalized Italian experience. Once you arrive in Montefollonico, Coleen's extensive connections with local families and businesses, culled from years of forging personal relationships with multiple generations, will immediately get you acclimated. Her regional knowledge and sincere love of all things Italian makes her the ideal companion who will confidently lead you from your empty nest, your harried work schedule or your auto-pilot daily routine and create your next authentic, life-changing experience.
Coleen's is a story of an extraordinary mid-life dream come true.
Coleen is your host in Montefollonico, a picturesque Tuscan village filled with history, culture, and home to many of the very best cooks in Tuscany. This is the home base for Tuscan Women Cook. Each week, Coleen will welcome guests like you from around the world to live, breath, and cook as the locals do. "This is the very best part of our job," says Coleen. "The chance to immerse my guests in the authentic Tuscan lifestyle; cooking in rustic kitchens with women who are preparing recipes that have been passed down from generations of family cooks for a complete Italian culinary experience."
Coleen has a knack for creating a memorable trip for every member of your family, even the kitchen novices. Guests who would rather leave the cooking to others will also have great Tuscan adventures thanks to Coleen's extensive knowledge of the region. She's thought of everything, from shopping expeditions, spa days, and golf outings for friends and family members who are interested in venturing out of the kitchen.
"There is truly something for everyone at Tuscan Women Cook. Many of my guests forge deep and lasting friendships and so do we," confides Coleen.
All roads lead to Tuscany for Coleen. She shares an intense passion for cooking, entertaining, meeting new people, and travel. When not hosting Tuscan Women Cook in Montefollonico, Coleen lives in California with her supportive husband and grown children. With their enthusiastic blessing, Coleen embraced the idea of forging a business in Italy that encompasses all her favorite pursuits. Coleen wants to thank her family for their love and encouragement, and their patience while she shares paradise with Tuscan Women Cook guests.

See the sample weekly schedule of the Tuscan Women Cook cooking school.