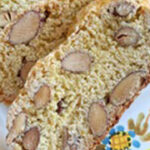 Print Recipe
Cantucci
Nonna Siriana Fumi loves sharing her secrets for making a Tuscan feast in her master class for Tuscan Women Cook. The multi-course meal is capped off with these delectable cantucci, a Tuscan twice-cooked almond biscotti. We've adapted her way of making them for our friends in the United States where the flour has more protein. Although you can make these using all-purpose flour, we find blending in some cake flour produced a more tender result. They're delicious dipped in chocolate (see "Notes" below).
If toasting your own almonds, preheat oven to 325 ℉. Line a rimmed baking sheet with parchment paper or foil for easy cleanup. Roast for 10-15 minutes.
Ingredients
3¼

cups

all-purpose flour

¾

cup

cake flour

1½

cups

granulated sugar

2½

tsp

baking powder

4

whole

eggs

2

large

egg yolks

grated zest of 1 whole orange and 1 whole lemon

7

ounces

toasted almonds

egg wash; 1 whole egg lightly beaten
Instructions
Preheat the oven to 350˚F. Line a baking sheet with parchment paper.

Stir together the flours, sugar, and baking powder in a large bowl. Transfer the mixture onto a flat worktable. Make a well in the center. Pour the eggs and zest into the well.  Knead the mixture together using your hands until it starts to come together. (If the dough feel dry, add an additional egg yolk or whole egg.) Add the whole toasted almonds and knead until you have a firm and flexible dough. (This may also be done in a stand mixer using the dough hook.) 

Divide the dough into two even pieces. Roll each one into a log approximately 2 inches wide. (Siriana calls them "fat pici".) Place them on the parchment-paper-lined baking sheet. Brush each log lightly with the egg wash.

Bake until the dough is slightly golden, for about 30-35 minutes. Remove the baked logs from the oven. Let them cool for 15 minutes. Then place them on a cutting board. Cut the logs on the diagonal approximately ½-inch thick.  If you prefer firmer cookies, return the cut slices to the oven. Reduce the heat to 325˚F and bake them for 8–10 additional minutes.
Notes
Chocolate-Dipped Cantucci
12 ounces bittersweet or milk chocolate, chopped into chunks
1 tbsp coconut oil or vegetable oil
One batch Siriana's Cantucci Cookies
Melt the chocolate and coconut oil in a bowl set over simmering water. Stir occasionally until the chocolate is melted and smooth.
Line two baking sheets with silicone baking mats or non-stick parchment paper.
Dip one end of each cantucci about 1 ½ inches into the melted chocolate. Hold the cantucci over the bowl until it stops dripping then place on the prepared baking sheet.
Allow the chocolate to firm and set at room temperature but in a cool place.