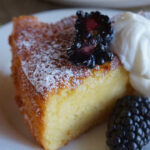 Print Recipe
Tuscan Olive Oil Cake
Olive oil cakes come in many forms. Light sponge cakes in which a small amount of olive oil helps tenderize the crumb or moist and slightly dense cakes where oil acts as a liquid fat to enrich the batter. What these cakes share are a few common elements, olive oil, a flavoring usually from citrus fruit, sugar and flour or a starch. In Tuscany, you'll find such cakes perfumed with lemon or orange juice or a combination of the two. Grated zest too. Milk or yogurt might be added to moisten the dry ingredients or a sweet wine such as vin santo in its place. While wheat flour is common, potato flour and corn starch may be used. At Ristorante 13 Gobbi in Montefollonico, nonna Simonetta uses potato flour to make her toothsome olive oil cake. Our recipe is an adaptation of hers.
Ingredients
2

cups

all-purpose flour

2

tbsp

corn starch

1

tsp

salt

1

tsp

baking powder

½

tsp

baking soda

1

cup

light olive oil

1¼

cup

milk

3

large eggs

1½

cup

granulated sugar

1

tsp

vanilla extract

½

cup

lemon juice

Zest of 3 lemons

Confectioners' sugar, for dusting
Instructions
Place a rack in the center of the oven. Preheat the oven to 350°F. Grease a 9-inch cake pan. Line bottom and sides with parchment paper OR dust it with flour.

Stir together the flour, cornstarch, salt, baking powder and baking soda in a mixing bowl until well combined.

Combine the olive oil and milk in a separate bowl.

Whisk together the eggs and sugar in a large mixing bowl until well combined. Stir in the extract, lemon juice and zest. Stir in the dry ingredients alternating with the olive oil mixture in two or three additions. Use a flexible spatula and mix only enough to ensure that the flour is moistened.

Pour the batter into the prepared pan. Bake until the cake is set and golden on top, for 45 to 50 minutes. The cake will have risen slightly and the top will spring back when lightly pressed with a finger.

Cool the cake for 20 minutes on a cooling rack. Carefully unmold the cake onto a serving plate. Allow the cake to cool completely. Dust with confectioner's sugar before cutting it into wedges and serving.

Variations: Use any kind of nut or non-dairy milk in place of the whole milk.

Substitute any kind of citrus juice and zest for the lemon juice and lemon zest. Or use a combination. Orange and lemon juice are common. Use limoncello or vin santo in place of the lemon juice too.

Orange flower water, rose water or grappa may be used in place of the vanilla extract.