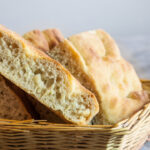 Print Recipe
Focaccia—Tenimenti Andreucci
Cooks and our Tuscan Women Cook nonne make focaccia their own, scattering spiny rosemary leaves, paper-thin slices of red onion, black and green olives, or cooked bitter greens over their dough. Some add rosemary, fennel, and other spices to the dough. In season, fresh zucchini blossoms may adorn the dough as well as any seasonal herbs including fennel fronds, marjoram, and oregano. During the grape harvest, cooks in the region prepare schiacciata con l'uva, a grape-filled sweet tort and focaccia's cousin. It's a not-to-be-missed treat when you visit in the fall.
This recipe is from nonna Lara of Tenimenti Andreucci.
Ingredients
1

pound

all-purpose flour

½

tsp

salt

7

fluid ounces

water, room temperature

3

fluid ounces

milk

1

tsp

instant yeast (slightly less for overnight rise)

2

tbsp

olive oil

Olive oil and flaky salt for topping

Fresh rosemary, if desired
Instructions
1. In a bowl, combine flour and salt. In a separate container, combine the water, milk and the yeast. Let the yeast dissolve for 10 minutes. Then, combine the wet and dry ingredients with a fork. Add the 2 Tablespoons of olive oil. Stir until the flour is thoroughly moistened.

2. Turn the dough out onto a silicone mat or worktable lightly dusted with flour. Knead until you have a smooth dough, for about 6 to 7 minutes.

3. Gather the dough up into a ball. Put the dough back into the bowl. Score the top of the dough in a cross pattern. Cover with a dish towel. Let the dough sit for at least 3 hours.

4. Preheat the oven to 425° F. Coat a 9 x 13-inch baking pan or small sheet pan with olive oil. Flatten the dough into a rectangle. Place it in the pan and spread out the dough using your hands and fingertips.

5. Let the dough rest for 15 to 20 minutes until visibly puffed and risen. Poke the surface of the dough with your fingers to make dimples. Drizzle olive oil over the dough filling each dimple of the dough then sprinkle generously with salt. Scatter sprigs of fresh rosemary on the top, if desired.

6. Bake for 20 to 25 minutes until golden brown and crisp. Remove the focaccia from the pan. Place on a wire rack until cool enough to eat.