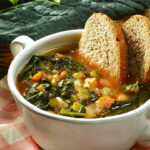 Print Recipe
Ribollita
Ribollita means "re-boiled" in Italian. When the bread has an extra day or two to absorb even more of the flavorful broth, ribollita will thicken and taste creamy. Feel free to add your favorite vegetables and herbs to this recipe. There are no hard and fast rules for ribollita, except to reheat and enjoy, day after day. This recipe is courtesy of nonna Ada of Agriturismo Belagaggio.
Ingredients
2

cups (14 ounces)

dried small white beans, washed

small piece of Parmesan cheese rind

½

cup

extra-virgin olive oil

1

large yellow onion, diced

4

large carrots, peeled and diced

3

celery ribs, diced

1

28-ounce can whole peeled tomatoes, undrained

Sea salt

Freshly ground black pepper

Dried oregano

3

large Swiss chard leaves, chiffonade

½

medium white cabbage, chopped

8

pieces

dry day old or toasted Italian bread

Parmesan cheese for garnish

Olive oil for garnish
Instructions
Rinse the beans in a colander and pick out any debris or small stones. Place in a medium stockpot and add cold water to cover the beans by about 2 inches. Cover and soak overnight.

Drain the beans and cover then with fresh water. Add the Parmesan cheese rind. Over medium heat, simmer until the beans are tender, about 30 minutes. Set aside.

Heat the olive oil in a large Dutch oven over medium heat. Add the diced onion, carrots, and celery (soffritto). Cook, stirring occasionally until the onions are translucent, for about 10 minutes.

Stir in the tomatoes, the beans, and their cooking liquid. Season with salt, pepper, and oregano. Add the chard and cabbage. Add additional water, chicken or vegetable stock as needed to completely cover the chard and cabbage.

Bring the mixture to boil. Reduce the heat and simmer for 1 hour. Adjust the seasonings to taste.

Place a piece of bread in each bowl. Ladle the soup on top of the bread. Top each serving of the soup with some Parmesan cheese, a dash of olive oil, and freshly ground black pepper.