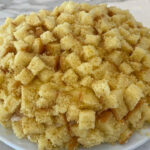 Print Recipe
Mimosa Cake
In Italy, the symbol of Mother's Day (Festa della Donna) and International Women's Day is the yellow mimosa that usually blooms in early March in northern and central Italy. On this day, women and girls are given small bouquets of mimosa flowers. The scent of mimosas fills the air and reminds everyone not only of the meaning of this day, but also that spring is near.
This recipe requires two cakes, one for the cake and one for the "mimosa" topping. Bake the mimosa topping cake (Cake #1) first.
NOTE: Two cakes are required. Ingredient list shows ingredients for ONE cake.
Ingredients
For each cake:
5

eggs

1

cup

sugar

1¾

cup

flour

1

tbsp

baking powder
For the vanilla custard:
1¼

cup

milk

1¼

cup

heavy cream

½

tsp

vanilla

8

eggs yolks

½

cup

flour

1

cup

sugar
For the whipped cream filling:
1

cup

heavy cream

2½

tbsp

powdered sugar
Instructions
Mix the eggs with the sugar until incorporated, and then slowly add the flour and the baking powder. 

Put in a greased 8-inch round pan and bake approximately 30 minutes at 350 degrees or until a toothpick comes out clean.

Cake #1: Cut into small ½-inch cubes that you will use for the topping, resembling a mimosa flower. After you spread the ingredients on Cake #2, the "petals" will stick.

Prepare Cake #2: After the cake cools, invert cake onto a plate. Slice into 2 discs.

To make the vanilla custard: In a saucepan, warm milk and heavy cream with the vanilla. Do not boil, just warm.

In another saucepan, on low heat, mix the egg yolks with the flour and the sugar until combined.

On low heat, slowly incorporate the warm milk mixture into the egg mixture. Mix 5-6 minutes, until thickened. 

Transfer custard to a glass baking dish, cover custard with plastic wrap, and chill in the refrigerator for 30 minutes. Keep covered so as to avoid building a crust on the custard.

Whipped cream filling: Mix the heavy cream and the powdered sugar until soft peaks form. Use immediately.

Now build the cake. Take your two cake discs. On disc #1, spread whipped cream to cover. Then cover the whipped cream with custard.

On disc #2, use remaining whipped cream and custard to cover the outside of the cake. Then press the "flowers" from cake #1 all around the cake to create a beautiful mimosa!
Video