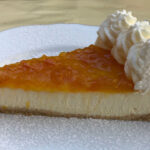 Print Recipe
Cheesecake Tart Cibrèo
Cheesecake is an ancient part of Italian culinary tradition. Roman statesman Cato mentioned cheesecake in his second century B.C.E. De Re Rustica according to Alan Davidson in The Oxford Companion to Italian Food. It was a baked cake of cheese sweetened with honey and flavored with spices and dried fruit that Roman soldiers ate. Today, Rome's torta alla ricotta sets the standard. Lighter than the New York style variety, Roman cheesecake derives richness from cream and a slight tang from freshly made ricotta cheese.
Because of the soft consistency in its filling, cheesecake requires some type of crust. In the United States, we're familiar with crushed cookie crumbs. In Italy, a rich dough called pasta frolla is often used. The buttery dough bound with eggs or egg yolks, bakes into a crisp crust, as much a feature as the filling itself.
Chef Picchi's spin on the classic torta alla ricotta involves preparing it in a shallow, fluted tart pan. And glazing it with an intensely flavorful orange marmalade. At Cibrèo, they use house-made bitter orange marmalade, available at C.BIO, their own food shop. (Unless you've stocked some on a previous trip, look for one marked "bitter orange" such as the bitter orange marmalades from Bonne Maman.
To create this recipe, we took inspiration from one shared by a former member of Cibrèo's staff, Chef Enzo Pezone. He advises making it in a fluted tart pan or a springform pan. His recipe won accolades in New York City where he serves it at Pepolino, his Tuscan-style restaurant. You might win accolades from your friends if you make it too.
Adapted from Chef Enzo Pezone
Ingredients
For the pasta frill dough:
6

ounces (12 tbsp)

unsalted butter

⅓

cup

granulated sugar

1

egg yolk

1

whole egg

2

cups

cake flour
For the cheesecake filling:
1

pound

ricotta cheese

½

cup

granulated sugar

2

eggs, lightly beaten

1

tsp

vanilla extract

¾

cup

heavy cream

1

cup

bitter orange marmalade

whipped cream, for garnish, if desired
Instructions
To make the pasta frolla dough: beat the butter in the bowl of a stand mixer fitted with the paddle until smooth, for about 1 minute. Scrape the bowl. Add the sugar and beat until smooth and creamy, for about 2 minutes. Scrape down the sides of the bowl. Beat in the egg yolk and egg. Add the flour and beat until all the ingredients are incorporated and the dough is smooth, for about 1 to 2 more minutes. If the dough seems sticky, add another teaspoon or two of flour. Gather the dough up into a ball. Flatten it slightly and wrap it in plastic. Refrigerate until firm, for at least an hour or overnight.

Preheat oven to 500°F. Place the dough on a lightly floured work surface. Roll it out 1/8- to 1/4-inch thick. Transfer the dough to a 10- to 11-inch tart pan with a removable bottom or to a 10-inch springform pan. Trim away any excess dough reserving it to make cookies. If using a springform pan, trim the dough so that it comes up 2 inches from the bottom inside the pan.

To make the cheesecake filling: Beat together the ricotta, sugar, eggs, and vanilla in a bowl with a rubber spatula until smooth. Stir in the cream until well blended and smooth. Pour the filling into the dough-lined tart pan. Place the filled tart pan on a parchment-paper-lined sheet tray in case it overflows.

Bake the tart for 10 minutes. Reduce the temperature to 300°F degrees and continue baking until the cheesecake filling sets, the top has puffed and turns lightly golden in color. This will take from 45 minutes to an hour depending on how quickly your oven cools. Insert a paring knife into the center; if it comes out clean, the cheesecake is done. Transfer the tart to a rack and cool 10 minutes. Remove the outer ring and let the tart cool to room temperature.

Once the tart has cooled, spread an even layer of the bitter orange marmalade on top. Serve immediately cut into wedges with some whipped cream piped along the edge if desired. Or refrigerate for up to two days before serving.