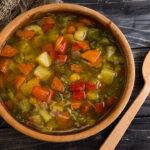 Print Recipe
Zucchini Vegetable Soup
We are grateful that this season, the Bernardini's of Agriturismo Belagaggio shared their recipe for zucchini zuppa. When making this recipe, select tender, small to medium size zucchini. They have the brightest flavor. Cut all the vegetables into ¼-inch-size pieces. Small pieces help the vegetables cook evenly. Be sure to cook the vegetables until they are uniformly tender. To get a creamy purée, use a high-powered blender or food processor.
Enhance the taste of this bowl of pale green velvet with a grating of Parmesan cheese. Herb or Parmesan croutons would contrast nicely too. Or reserve a half cup of the cooked vegetables to sprinkle on top of the zuppa before serving.
Ingredients
2½

pounds

zucchini, 5-6 medium sized

¼

cup

extra-virgin olive oil, more as needed

2

cups

finely diced onion

1¼

cups

finely diced celery

2

cups

finely diced carrots

salt

freshly-ground pepper

Parmesan cheese, optional
Instructions
Trim the ends from the zucchini. Cut them into long ¼-inch slices. Cut each slice into thin strips, then chop the strips into ¼-inch dice.

Heat the olive oil in a wide deep skillet over medium low heat. Add the diced onion, celery, carrots, and zucchini. Cook over medium low heat, stirring from time to time for 20 to 25 minutes until softened. Add more olive oil if needed to keep the vegetables from sticking or browning. Season with salt and fresh ground pepper.

Purée the cooked vegetables until smooth and creamy in a high-power blender or using an immersion blender. Adjust the seasonings to taste.

Serve in warmed bowls drizzled with extra-virgin olive oil and a grating of fresh Parmesan cheese.