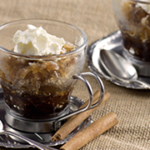 Print Recipe
Coffee Granita
Granita is a dessert that originated in Sicily, most likely as a respite from the hot climate. It is made by freezing a mixture of water, sugar, and flavorings, such as orange or lemon juice, herbs, crushed almonds, or espresso or coffee, and then scraping the frozen mixture with a fork to create an icy texture. Granita is the perfect hot weather treat and is often served as a dessert or for breakfast. It's known for its unique granular texture and intense flavor.
Ingredients
¾

cup

granulated sugar

½

cup

boiling water

2

cups

hot espresso or very strong brewed coffee

whipped cream
Instructions
Combine the sugar and boiling water in a mixing bowl.  Stir for one minute with a wire whisk.  Add the hot espresso and stir until the sugar dissolves.

Cool the mixture to room temperature.

Pour the espresso mixture into a shallow 9 x 13-inch glass or stainless steel pan. Place in the freezer and let it begin to harden for 3 to 4 hours.   

Drag the tines of a fork over the surface of the granita to make fluffy crystals.  Return the granita to the freezer and let it sit until firm.

To serve, scrape the surface of the frozen granita again to loosen the ice crystals. 

Divide evenly between serving glasses alternating with layers of soft whipped cream. Serve immediately.