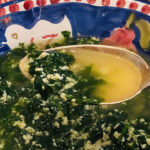 Print Recipe
Zuppa di Pasqua
The success of this traditional Easter soup relies on the robust flavor of homemade chicken broth and Parmesan cheese. It is fresh and delicate but still eminently comforting, especially when you are feeling a bit under the weather.
Ingredients
1¾

lb

fresh spinach, washed

4

oz

Parmesan cheese, grated

3

eggs

pinch

salt

pinch

nutmeg

8

cups

brodo di pollo (chicken broth; recipe below)

2 litres
Instructions
Bring a large stockpot of lightly salted water to a boil over high heat. Add the spinach and cook uncovered, stirring occasionally, until the spinach is soft and wilted, about 1 minute. Drain the spinach through a mesh sieve, pressing it firmly with the back of a spoon to squeeze out the excess water. Turn the drained spinach onto a cutting board and coarsely chop.

In a small bowl, beat the Parmesan cheese, eggs, salt, and nutmeg together.

Bring the chicken stock to a boil in a stock pot over medium high heat. Slowly pour the egg mixture into the stock, whisking it constantly with a fork to form little shreds. Stir in the spinach. Simmer for 2 to 3 minutes. Serve immediately. If you like, ladle each serving of the soup over slices of toasted bread.

Note: Chicken broth: Half a chicken, 1 carrot, 1 rib of celery, 1 white onion, half a handful of parsley, 8 cups of water, and salt. Put everything in a large pot. Salt as like as you like, and simmer for 2 hours on low heat. Filter the broth through cheesecloth.
Video