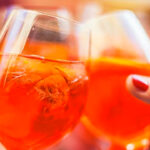 Print Recipe
Aperol Spritz
You have Campari, along with a new generation of acerbic flavor-loving bartenders to thank for the popularity of Aperol. Campari's relentless viral marketing, merchandise, and strategic product placement put their Aperol liqueur in front of cocktail lovers everywhere around the world. The Barbieri brothers would be the first to thank Campari. They invented the Aperol aperitif in 1919.  Their light, refreshing low alcohol cocktail is especially popular in warm weather when white wine spritzers used to be the go-to beverage for summer revelers. 
Ingredients
large wine glass filled with ice

slice of a large fresh orange, cut in half

Prosecco

Aperol

Club soda
Instructions
Add half slice of orange to glass. Fill glass with one-third each Prosecco, Aperol, and club soda. Mix carefully with a straw, sweeping bottom to top slowly so as not to disturb the bubbles. Add a another half slice of orange to rim for garnish.
Video