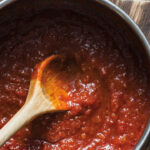 Print Recipe
Sugo di Campagna
Ingredients
½

cup

extra-virgin olive oil

1

28-ounce can

whole peeled tomatoes, or crushed tomatoes, including juice

salt and pepper to taste

3

cloves

garlic, finely minced (1 tablespoon)

2

small

dried red chili peppers (peperoncini)

1

tbsp

sugar

6

tbsp

whipping cream, heavy cream or half-and-half

1

bunch

fresh basil, chopped or torn (½-cup)

1

bunch

fresh flat-leaf parsley, finely chopped (⅓-cup), plus more to taste

⅓

cup

freshly grated Parmesan cheese
Instructions
Warm the olive oil in a medium saucepan over medium-low heat. While the oil is heating gently, pour the tomatoes and their juice into a large bowl. Use your hands to break them open and crush them, releasing their juice.

When the oil is warm, add tomatoes and their juice and stir well. Increase heat to create and maintain a gentle, visible simmer. Cook, stirring occasionally, for 30 minutes. Stir in salt, pepper, and garlic, and continue cooking for 20 minutes more.

Add the dried red chili peppers, sugar, and cream. Stir to mix everything well, and then cook, stirring or whisking occasionally, for 10 minutes more. Taste, and add more salt or pepper if needed.

Add the basil, parsley, and Parmesan, and stir well. Cook 1 minute more, and remove from the heat. Toss with freshly cooked pasta or use in recipes calling for tomato sauce. Or cool to room temperature, transfer to a container, cover, and refrigerate for up to 3 days, or freeze for 3 months.