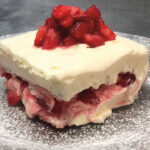 Print Recipe
Strawberry Tiramisù
When Albo Stefanucci, the owner of Ristorante 13 Gobbi, presents our guests with his fresh strawberry tiramisù, everyone perks up. The combination of strawberries and the traditional layers of creamy mascarpone and Italian ladyfingers is a refreshing spin on the classic. Serve it in summer when fresh strawberries are at their peak. 
Alchermes is a scarlet colored Italian liqueur made by infusing neutral spirits with sugar, cinnamon, cloves, nutmeg, and vanilla, and other herbs, and Kermes, a small parasitic insect.
Pavesini ladyfingers may be difficult to find in stores. However, they are readily available online. Other brands may be substituted.
Ingredients
For the strawberries:
2½

cups

strawberries, chopped

⅓

cup

alchermes liqueur (see above), Fragoli wild strawberry liqueur or Chambord

1

tbsp

sugar

2-3

tbsp

rum

1

cup

orange juice
For the cream:
5

egg yolks

¾

cup

granulated sugar

1

pound (500 grams)

mascarpone cheese, room temperature

500

milliliters

heavy cream

1

box

dry ladyfingers (Pavesini brand preferred**)
Instructions
Put the strawberries, alchermes liquor, sugar, rum, and orange juice in a bowl. Set aside.

With a hand or stand mixer, beat the egg yolks, sugar, mascarpone, and heavy cream on medium speed for 5-10 minutes, until creamy.

Strain the strawberries and keep the juice in a separate bowl. Dip the ladyfingers in the juice (a quick dip, you don't want them to be soggy), and arrange cookies on bottom of a baking dish. Cover with half the cream mixture, then cover with the chopped strawberries. Repeat for another layer, and cover with remaining cream mixture. 

Decorate with strawberries just before serving and dust with powdered sugar. Chill for 2-3 hours before serving. Tiramisùcan stay chilled for up to 2 days.
Video