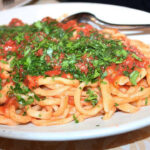 Print Recipe
Pici Pasta
Watching nonna Siriana Fumi roll out pici is a form of mindful meditation al italiano. Our guests focus on her steady hands as she kneads, flattens, and cuts the dough into strips. Her quick, flat palms roll each strip into a long, sinuous snake. It's obvious she has rolled pici her entire life. It's second nature to Siriana and to the hundreds of Tuscan home cooks who prepare pici for their families, friends, and dinner guests. Since pici is basically just flour and water, feel free to experiment with different combinations of flour to discover the texture you like best. We use all-purpose, Italian "00" soft flour. Watch your cooking time to make sure your pici comes out al dente. The flour blend you use will affect how long it takes your pasta to cook.  
Ingredients
2

cups

all-purpose flour, preferably Italian "00" soft flour

3

large

eggs
Instructions
Make a mound of the flour on a clean work surface. Make a well in the middle of the flour. Pour eggs into the well. Mix them together with a fork incorporating the flour in the liquid. Knead the dough for 10 minutes. Wrap the dough in plastic wrap and let it rest for 30 minutes to 1 hour.

Transfer dough to a floured surface and roll out with a rolling pin to a thickness of 0.2 inches and cut into 0.4-inch wide strips.

Wind each ribbon by hand into the shape of very long, twisted spaghetti. As they are prepared, lay them down on a surface sprinkled with cornmeal or flour and sprinkled them with cornmeal or flour so they don't stick together. Cook in plenty of salted water.

Pici pasta is excellent with a simple tomato-garlic sauce (pici all'aglione), hearty game meat ragus (pici al ragu di anatra), and even a simple sauce of bread crumbs, herbs, and olive oil (pici con le bricioli).
Video