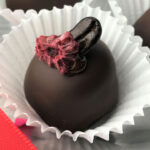 Print Recipe
Tartufi di Marzipane
This recipe is inspired by Lara Vinciarelli's tartufi al cioccolato served at our wine tasting lunch at Tenimenti Andreucci.
Marzipan is a delectable mixture of ground almonds and sugar, like edible modeling clay. It's especially popular in and around Naples and on the island of Sicily where it's formed into realistic miniature fruits.
The combination of marzipan and dark chocolate is a natural. The rich toasted notes of good-quality bitter chocolate balance the sweet almond flavors. When spiked with a little espresso coffee, you've got a sophisticated candy made from very few ingredients. And best of all, there is no baking required.
For best results, wear disposable gloves when making these candies. The mixture is sticky when kneading. Use marzipan or almond paste, for a slightly less sweet filling. Adding coconut oil to the dipping chocolate helps keep the chocolate from developing white streaks when it cools. Rolling the dipped truffles into cocoa powder or other decorations helps too.
The first tartufi ("truffle") can be traced back to the 1920's when French chef Georges Escoffier discovered that his sous chef had accidentally poured hot cream into a bowl of expensive chopped chocolate. As the cream melted the chocolate, he grabbed a spoon and created a rich emulsion that would become thick and malleable as it cooled. He formed spoonfuls of ganache into walnut-sized balls and rolled them in cocoa powder to resemble the natural truffle fungi buried deep in the soil. A rich, perfect, creamy one-bite dessert was born.
Ingredients
1

tsp

instant espresso powder

1

tsp

boiling water

10

ounces

quality marzipan or almond paste, 50% or more almonds

2

ounces

unsweetened chocolate, melted

8

ounces

bittersweet chocolate, melted

1

tsp

coconut or vegetable oil

espresso beans, as needed

freeze-dried raspberries, candy hearts, mini chocolate chips, cocoa powder, and other decorations as desired
Instructions
Dissolve the espresso powder in a small bowl with the boiling water.

Place the marzipan in a large bowl. Break it up then add the melted unsweetened chocolate. Knead in the chocolate until it is uniformly distributed throughout the marzipan. Add the espresso solution. Knead until the espresso solution and chocolate are well distributed.

Working on a silicone mat or on a work surface lightly dusted with confectioner's sugar, roll the chocolate marzipan into a log. Use measuring spoons to portion it into 1½ teaspoon-sized portions.

Roll each portion of the chocolate marzipan into a smooth ball. To make the domed shape, take one ball of chocolate marzipan. Gently press down to flatten the bottom. Pat the top of the chocolate marzipan between your fingers into a smooth domed shape. Repeat with each portion of chocolate marzipan.

Line a half-sheet pan with a silicone mat or with parchment paper.

Combine the two chocolates and the coconut oil in a small glass bowl. Place it in a microwave oven. Melt the chocolate in 20 second bursts, stirring between until the chocolate is melted. Or melt the chocolate and coconut oil over gently simmering water.

Insert a wooden skewer into the bottom of one chocolate marzipan dome. Dip it into the melted bittersweet chocolate. Hold the dipped truffle over the bowl so that the excess chocolate drips off. Scrape any excess chocolate from the bottom using a paring knife.

Place the dipped chocolate marzipan onto the prepared sheet tray. Repeat with all the marzipan truffles.

Press an espresso bean into each truffle. Decorate with a piece of freeze-dried raspberry or other candy garnish as desired. Or roll each dipped truffle in mini chocolate chips or cocoa powder.

Refrigerate for 2 hours or more until the chocolate coating is firm.

Serve immediately. Or keep refrigerated until ready to serve. These candies will keep for up to 2 weeks when refrigerated.