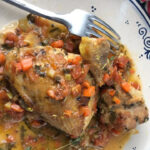 Print Recipe
Pollo ai Profumi della Toscana
Abundant fresh herbs are the hallmark of Dania Masotti's garden (orto). Here they amplify the flavor of a quality farm raised chicken. 
Dania, a famed chef has retired. But memories of her inventive Tuscan Women Cook classes linger with our guests. A favorite teacher, she is known for transforming classic peasant dishes into elegant renditions that retain their soulful quality. 
In this recipe, Dania browns then gently simmers a cut-up chicken in a sofritto of spring onions, carrots and celery. She tosses in a generous handful of fresh herbs from her garden. She uses what is available, often a mixture of rosemary, sage, thyme plus parsley, which we find works well. 
Serve this chicken as a main course after a light pasta primo. At room temperature Dania's savory dish makes saucy picnic fare. Consider this finger licking meal for your Pasquetta and bring lots of napkins. 
Although she has retired from cooking for the public, Dania continues to grace the tables of Tuscan Women Cook. You will find her recipe for Risotto dell'Orto in our Tuscan Women Cook cookbook. Like this chicken recipe, her risotto relies on vegetables and herbs picked fresh from her garden enlivened with a burst of lemon.
Ingredients
1

free-range chicken

4

ounces

olive oil

salt and pepper

1

spring onions or 3 scallions, finely chopped

1

carrot, peeled and finely chopped

½

finely chopped celery stalk

2

small ripe tomatoes, diced

½

cup

mixed chopped herbs including rosemary, sage, thyme, tarragon and parsley

5

fluid ounces

white wine

1

pint (16 fluid ounces)

chicken stock

grated zest of 1 lemon
Instructions
Wash the chicken. Pat it dry with paper towels. Cut it into 8 or 10 pieces.

Heat half of the olive oil in one large skillet over medium high heat. Season the chicken lightly with salt and pepper. Sauté the chicken pieces until golden brown turning them from time to time.

Heat the remaining olive oil in a saucepan over medium heat. Sauté the onion, carrot and celery until tender. Stir in the tomatoes and herbs.

Place the chicken on top of the vegetables.  Add the wine to the pan in which the chicken cooked. Scrape any bits stuck to the bottom. Pour the liquid  into the pan with the chicken and vegetables. Add just enough of the stock to moisten the vegetables.

Cook the chicken over gentle heat turning the pieces from time to time and adding stock as necessary until the chicken is tender, for approximately 30 – 40 minutes. 

Place the chicken on each plate with some of the sauce. Grate fresh lemon zest on top before serving.