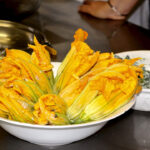 Print Recipe
Stuffed Zucchini Flowers
One of our guests' favorite memories is watching nonna Ada Bernardini and her daughter Antonella stuff and fry bowls of zucchini blossoms at Agriturismo Belagaggio. Crowded in the busy kitchen, they savor them piping hot with icy flutes of Prosecco. 
Nonna Ada uses fresh ricotta cheese and spinach in this recipe.  She fills and gently twists the blossoms shut before sliding them into bubbling hot oil. The oil bathes the blossoms and the cheese immediately begins to soften. When you make this recipe, watch the petals of the flowers crisp.
Ingredients
For the batter:
2

cups

all-purpose flour

1

egg

¾

cup

beer, chilled

¾

cup

sparkling water

1

tsp

salt

1

tsp

freshly ground black pepper
For the ricotta filling:
1

cup

fresh ricotta cheese, strained if necessary

¾

cup

well-drained cooked, chopped spinach, excess water squeezed out

2

tsp

lemon zest

1

tsp

salt

½

tsp

freshly ground black pepper

16-18

zucchini flowers, washed, dried, and stamens removed

32

ounces

sunflower or peanut oil

salt
Instructions
To make the Batter, combine the flour, egg, beer, sparkling water, salt, and pepper in a bowl until smooth. It should have the consistency of thin pancake batter. If needed, add a little more beer or water to achieve the proper consistency.

To make the Ricotta Filling, combine the ricotta, spinach, lemon zest, salt, and pepper in a large mixing bowl. Stir until smooth. Spoon the filling into a pastry bag fitted with a wide tip. (A small sealable plastic bag with a bottom corner cut off can be used or you can fill the flowers using a small spoon.)

Pipe approximately 1-2 tablespoons of the filling into each flower, depending on the size of the blossom. Leave a bit of space at the top to twist the flower closed. Twist the petals together at the top to help contain the cheese mixture.

Select a frying pan deep enough to accommodate several flowers at once. A wok is a good choice. Heat enough oil to cover the flowers by three quarters.

Dredge each zucchini flower in the batter, shaking off the excess, and carefully place in the hot oil. Fry the flowers for 2-3 minutes on each side or until the batter begins to brown. Use tongs or a slotted spoon to gently turn them over.

Carefully remove the flowers from the oil to a large platter lined with paper towels. Sprinkle with salt. Serve immediately.